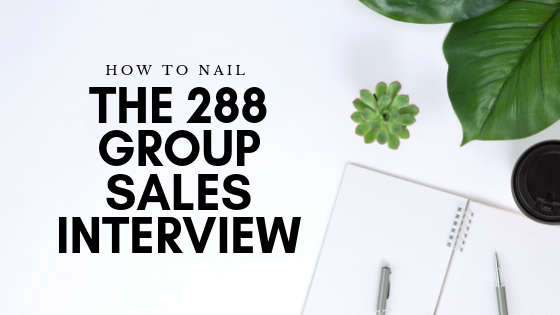 Interested in joining our expanding sales team? Here's our 5 top tips to help you prepare and nail that all-important interview.
Let's face it, nobody enjoys interviews. It can be a daunting experience for even the most confident of us out there. Fear of the unknown and what questions are going to be asked can be a tricky task to prepare for. However, it doesn't need to be like this.
With some clever preparation and research into the role you're applying for, you should be able to nail that interview no problem. If you're interested in joining our expanding Sales Team at 288 Group, then we've compiled our 5 top tips to make sure you have maximum interview success.
1. Know your CV
Coming for an interview, you should know your CV like the back of your hand. In an interview, anything on your CV can potentially be probed so it's important that you know this inside out. Preparing intelligent responses to your previous positions and how they relate to the Sales role you're interviewing for will give us the confidence and comfort you're the right person for the job. Sounds simple, but you'd be surprised how many people fall short in this area!
2. Sell yourself
You're applying for a sales position, so the one thing we want to see is your ability to sell yourself. During your preparation, work out what you're key strengths are, what you're most proud of and what key skills you've developed throughout your career. You need to show us why we should hire you, so giving some thought into these points with relevant examples from your previous experience will stand you in good stead.
Key tip: Do you have experience selling high value goods to customers? If so, we'd love to know about it.
3. Do your homework
One of the best ways to nail your job interview is to do your research on who we are and what we do. Showing an understanding of the 288 Group will show us that you've done your homework and also have a genuine interest in the position and the company.
Key tip: Did you know that we sell coins that cost over £1,000? With that in mind, what kind of customers or people do you think we target for these kind of products?
4. Show us your real personality
You'd be surprised at how many people try to be what you "think" we'd like to see during the interview rather than being themselves. Our Sales Team is made up of a mix of personalities, there's no one-size-fits-all when it comes to what we're looking for. For that reason, it's important during the interview process that you let your true self shine through and give us a flavour of who you are. The last thing we want is for someone completely different to turn up on day 1.
Key tip: During the interview process, we'll be looking at more than just your skills. In terms of personality, what do you bring to the table that will make you stand out from anyone else?
5. Ask questions
Always remember, you should be interviewing us as much as we are interviewing you. This is your opportunity to make sure that the role and company is right for you, so doing your research and having a couple of questions prepared to help you make that decision is key. Asking relevant questions in relation to the role or company shows us that you've thought about this interview and are genuinely interested in joining us.
If you'd like to find out more about what it's like working as part of our Sales Team or our current vacancies, please click here: https://www.288group.com/sales/
/wp-content/uploads/2019/05/How-to-nail-1.png
315
560
Hannah Edwards
/wp-content/uploads/2017/10/288-Group-logo.png
Hannah Edwards
2019-05-30 14:36:19
2019-05-30 14:39:02
How to nail the 288 Group sales interview